Because I wouldn't see him until show time, my spouse hugged and kissed me and wished me good luck last Thursday morning.  He asked, "Will this be the biggest crowd you've ever spoken to?" I responded quickly, "No. But it will be the biggest crowd I've spoken MY OWN WORDS to."  I was going to share a slice of myself, just a sliver of a very rich story, with 700 people.  But I wasn't nervous.
I wasn't nervous until I saw the other twelve women I got to share a stage with.  Until I saw my name on my seat.  Until I caught glimpses of my family and friends waiting in line outside the door.  Strangers, fine, but ohmygoodness, MY people are here! I became nervous not for the speaking, but for the revealing.  Because even the very closest people to me, the people I share every part of my heart with, don't know all the story.  And forget the people who don't know my heart at all, who are new friends I volunteer and occasionally drink with.  They certainly don't know my story.  But truly everyone has a story, and the beauty is in the telling.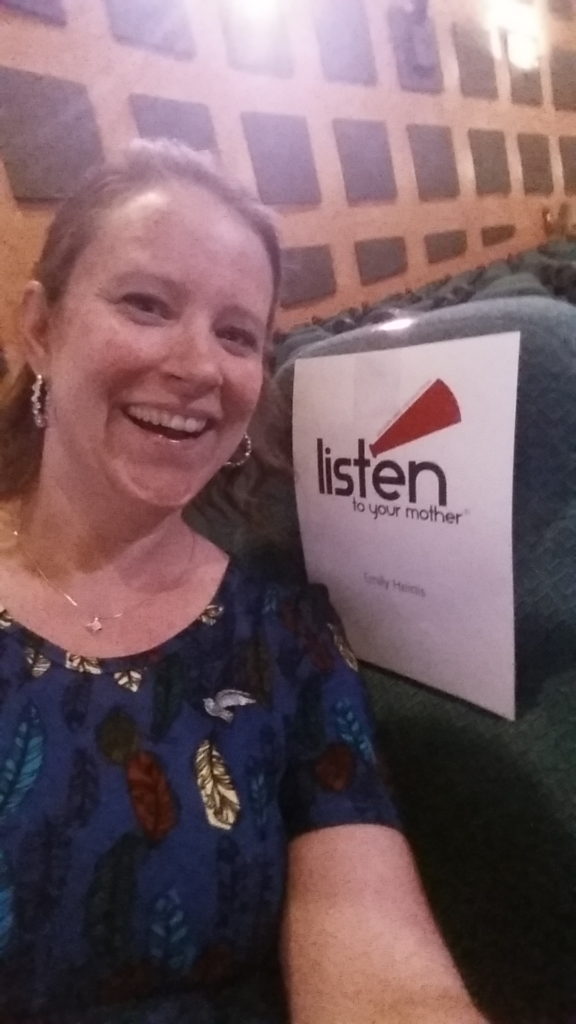 I remember our first cast rehearsal.  We took pictures and read through our pieces.  Photos first, and in the waiting (each woman had individual shots taken before our group shot), we chatted.  We shared pleasantries, "Where are you from? What do you do? Do you have kids?"  The questions women ask.  Then we heard each other's stories.  And we suddenly knew each other one hundred times better.  I had a lengthy conversation with one of the women about her work and hobbies and passions, and then BAM! I find out she almost died. Because even though we talked for twenty minutes, that didn't come up.  And gracious, you don't lead with that!
I've been leading with part of my story for a few months, though, because of our circumstances.  A conversation typically goes like this:
"We're moving this summer."
"Oh, wow! Where?"
"To my hometown."
"Oh, how fun! But why? Did you or your spouse get a new job there?" (Commentary on why our lives should not be ruled by our work another time.)
"No, my mom died last fall, and we've decided to renovate and move into her house."
"Oh."
"Yeah.  It's good, though.  Really great decision for our family."
"I'm so sorry. But happy for you."
"Thanks."
And then we usually change the subject.  Because sometimes stories are so HARD in conversation.  People don't know what to say or ask, what is allowed, rude, or intrusive. So, actually, the stage is kind of the perfect solution.
I got to share my story, or a small piece of it anyway, to a crowd of 700 people, about 40 of whom I know and will see again.  No awkward conversations necessary.  Except by choice.  Because after and still (via email and DMs and in person), women are telling me, "Thank you for sharing your story, it's my story, too."
That's the power of storytelling! Nothing connects us like the power of "Me, too."  One of my friends said my story was one of the most relatable, and I totally get that.  My story had few enough details to be somewhat generic.  Few enough extraordinary circumstances for more people to say, "Me, too.  Ohmyheart, me, too."
I was nervous because of the revealing, not the speaking (though I was surprised at how little eye contact I was able to make, how much I needed to keep my hands down instead of gesture, for fear of shaking), but then it was indeed the sweetest part.  Life is too short to keep our hearts concealed.  Awkward conversation and stage fright and embarrassment and all the hard things.  Sweet, sweet stories, no matter how difficult, are what sustain us.  Stage or no stage, I hope you find a way to tell yours.