"You KNEW I had to pick up the lunchboxes!" She screamed at me as she stomped off.  Her anger was immediate and all-consuming.  I had asked her why it takes her a full ten minutes after the bell rings to meet us in the [now freezing cold] school yard.
She knows she must wait at the street, so there she was, pouting, when I caught up to her.  "Ummm, yeah.  I just wanted to point out it was cold and Nathan and I are waiting for you out here, so maybe you could talk me through what your getting ready routine looks like, so we could find a solution."
At this point, she throws herself on the ground and starts sobbing.  She will be 7 in January.  "Okay, well.  It's cold and this is unnecessary.  Please get up so we can walk home.  We can talk where it's warm." Again, she stomps off ahead of us.
When we're home and both reasonably calm, I ask her why she threw a tantrum like a toddler on the way home from school.  "Because you KNEW ABOUT THE LUNCHBOXES!" And it starts all over again.
---
Next morning, I am the first one to the kitchen.  I get out a big bowl, my pan, and all the ingredients for pancakes.  I make five "mixes" at a time, with the dry ingredients only, to make the next four times I make pancakes or waffles easier.  This was a mix morning.  So everything is out, I'm spread out over the entire counter.
My spouse comes down with the kids, and he literally reaches around me and my mixing mess to get to the cupboard.  He grabs cereal bowls to get the kids started on breakfast.
"I'm MAKING pancakes!" My anger was immediate and all-consuming.  He had just motioned to get our children breakfast.
I looked at him with my oh-so-expertly-crafted WTF look, and he put the cereal bowls back and said, "I didn't notice.  GEEZ." And he walked away.  Together but separate, we finished our morning routine and got the kids off to school.
When he got home from dropping them off, when we were both reasonably calm, he talked to me about getting so mad about something so mundane.  "But you had to REACH AROUND me to get the bowls! I've been making pancakes that same way for over a YEAR!"
He told me I should listen to myself sometime.  I threw myself on the bed and started sobbing.  I will be 36 ½ in January.
---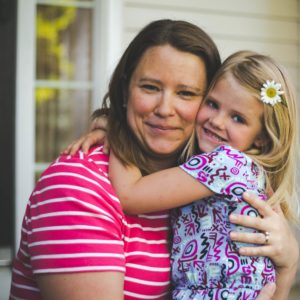 How, exactly, do we handle it when we are raising true smaller versions of ourselves? When that little cherubic face scowls at me and stomps and cries, I know she learned it all from me.  How, exactly, do I help her manage her emotions when I clearly am barely holding onto my own?
For me, I value communication over all else.  When she got home from school, I wrapped her up in a huge hug, picked her up (43lb first-graders are awesome), and we snuggled in my bed.  I am indescribably happy to have the cuddle gene in common with her as well.  "I'm so sorry we fought yesterday. Daddy helped me realize I act the very same way."
"Yeah, you do," she responded simply.  So much smarter than me. More honest.
"We can both try to do better, can't we?" I said.
"Yeah."
"I love you a lot.  You're my favorite girl."
"You're my favorite mommy. I love you a lot, too."
We feel deep, both the anger and the love, so I think that'll last me a lifetime, taking the good with the bad.