Last year, my mom died.  Three years ago, my father-in-law died.  And twenty-one years ago, my dad died.  All four of my spouse's grandparents and all four of my grandparents died long before we had kids.  Seven of the eight of them died long before we even met.
My kids have one grandparent.
And while I am supremely blessed in the awesome mother-in-law department, she is 81 years old.  And lives two hours away.  And my babies (I will call them that forever, so just hush) are grandchildren numbers 14 and 15 for her.  And numbers one through 13 are all adults, because my spouse is the youngest of seven and all of his siblings had kids long ago.  My own sister and her spouse have no kids.
Usually, I'm pretty woeful about all of that.  I grew up seeing my grandparents weekly.  My cousins were my extra siblings.  My kids will never have that.  Their cousins play with them at functions to be nice, but are mostly their babysitters (really good ones).  I get easily jealous of my friends whose parents fight over who gets to watch the kids.  Of my friends who have never had to pay a babysitter.  Of the pictures of cousins lined up in matching PJs under the Christmas tree.
But then I have friends describe the five Christmas celebrations they had to squeeze in this weekend.  Or the friend whose son, because of different divorces or other situations throughout the family, has TEN grandparents.  TEN.  But all ten of those people want to spend time with him over the holidays.  And buy him gifts.  Can you imagine getting grandparent-spoiled by TEN people!??! For the love. All weekend in my favorite Facebook parent group (yes, good ones do exist), there was story after story of family drama and fights about how much time to spend at whose house on which days.
So, on Christmas especially, but often other holidays, too, I say: hooray for my little family.  Hooray for no one fighting over our presence.  Hooray for having so few obligations we don't hardly know what to do with ourselves.  Of course I miss my parents and grandparents the most at Christmas, but that is unavoidable.  Instead of focusing on the missing, we can focus on what we do have.  Or rather, what we don't have and how that can be viewed as a benefit. We aren't displaced, we don't live far away from the families we have, we just don't have anywhere to be but with each other.
My aforementioned awesome mother-in-law decided long before I was in the picture never to celebrate holidays on the actual days, so she never has to compete with in-law families.  It is more important to her for all to be present.  The date on the calendar varies each year for each holiday.  This year, we had Christmas with them on the 23rd.  My mom's family will have a gathering on New Year's Day.  Those are our only obligations this entire season.  And frankly, if we didn't go to one of them, no one would get upset either.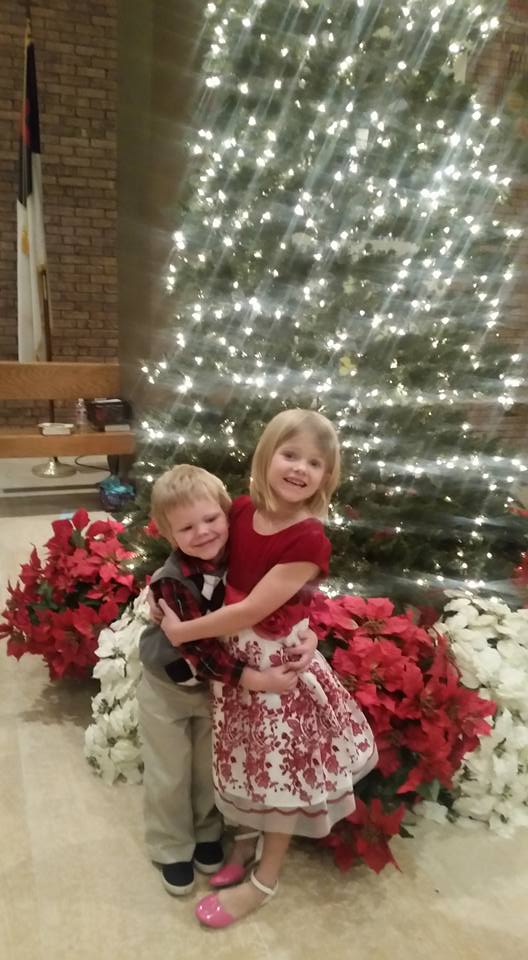 Actual Christmas Eve and Day were ours alone. We went to church and made dinner. Looked at Christmas lights and watched a movie. We danced in the kitchen and put the kids to bed early. We slept in (as much as kids on Christmas morning will allow) and ate breakfast slowly, knowing we had absolutely no schedule.  We opened presents and played with them.  We stayed in jammies ALL DAY.  We watched another movie.  We made pizza.  We ate candies and cookies and to the very extent of the word, we just relaxed.
I might like huge rooms of people playing silly present-opening games.  I might like a long table set with fine china and crystal, ready for meals labored over for days.  I might even like entire extended families in matching PJs.
But I sure am happy with what we have.  In the future, we might even be the family that goes to the tropics for Christmas.  For now, our little family of four in our little house for two days straight is just the perfect celebration.
Happy holidays, no matter how many times you celebrate them!