I'm an extrovert.  A big one.  Figuratively and literally.  I love people and animals and in absence of those breathing beings, plants and sign posts.  I'll talk anywhere anytime to anyone.  I crave people and attention.  Last week, I had the pleasure of traveling alone, however, and it was pure bliss.  I think we all know I love my family, and for being children, they travel very well.  I include my spouse in that.  But being in charge of no one but ME was the best break I could've asked for.  It was a business trip with 13-hour days, but it still felt like such a break.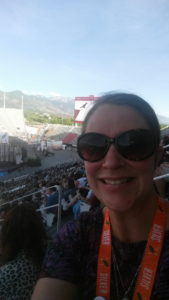 Eight Ways Traveling Alone is the Best Gift of All
When you travel alone, you get to be all kinds of in charge. I LOVE being in charge.  What I don't love? People not listening to me.  So if there's no one to be in charge of but me? Well, I'm my best audience.  I'm an excellent listener.  I do what I ask myself to do nine times out of ten.  And I don't throw an ever-loving fit about it first.
Getting to the airport on your own schedule. God bless my sweet spouse, but the man has travel anxiety.  He likes to be at the airport a good three hours in advance.  I will always accommodate his needs for comfortable flying, but I was happy to arrive at 5:45 for my 6:15 boarding time.  Because I don't need to be at the gate before the attendant.  Happy to stroll up and walk on.  No dealing with "Did they say Zone 2? Because I'm Zone 1.  I get to go in front of you." Calm down, folks.  This is supposed to be fun.
Going potty whenever you need to. Yes, I said potty.  Even if I'm alone and writing for adults, when you're still wiping someone's ass, you call it potty.  No stopping at every available restroom just in case.  No doubling back because thirty seconds after you pass a potty, "Are you SURE you don't have to go?" someone suddenly has to go. I will pee.  In a stall.  BY MYSELF.
Related: eating whenever you need to. Or want to.  Ice cream at 10am? Don't mind if I do. Glass of wine with lunch on the patio? You betcha. Dining alone is fun.  It's great people watching, as long as you don't let your gaze linger long enough to be noticed.  Restaurant tables are close together.  Very entertaining.  You can act all spy-like with a book or something, but I like to keep my table free.  Dine, don't eat.  You can't do that with kids.
Not having to check in with anybody. Now, let's be clear: this convention was chock full of small and large groups of people.  That's the whole point.  And I WAS sad for the circumstances that led me to attending by myself for the first time. BUT.  Holy granola, the amount of conversations I overheard, "No, the OTHER door.  We're in the line at the food truck.  No, the curry one.  By the big round thing.  The BIG, big round thing!" [See: getting to eat whenever I want; add WHATEVER I want.] With 40.000 people in a three-block space, finding your people is HARD.  When you are your own people, you get to chill and giggle to yourself and the crazy.
Not having to hold anyone's anything.   Place in line.  Hand.  I can use one hand to hold my iced coffee and one to scroll Insta.
Remember the crowds? Not having to try to stay together in said crowds. There was one point on day two when the hallway literally came to a stop in both directions.  It's was the 494 of convention centers.  Because I was alone, I swerved and swooped undetected, peeling off into a vacant room and doubling back.  No presentation was worth that crazy, and I don't mind being touched.  My sister would've straight lost her shit in a crowd like that.  You maybe don't want to come next year, k, sis? You stick to the smaller topic conventions.
Sleeeeeeeeeeeeeeep. You feel me?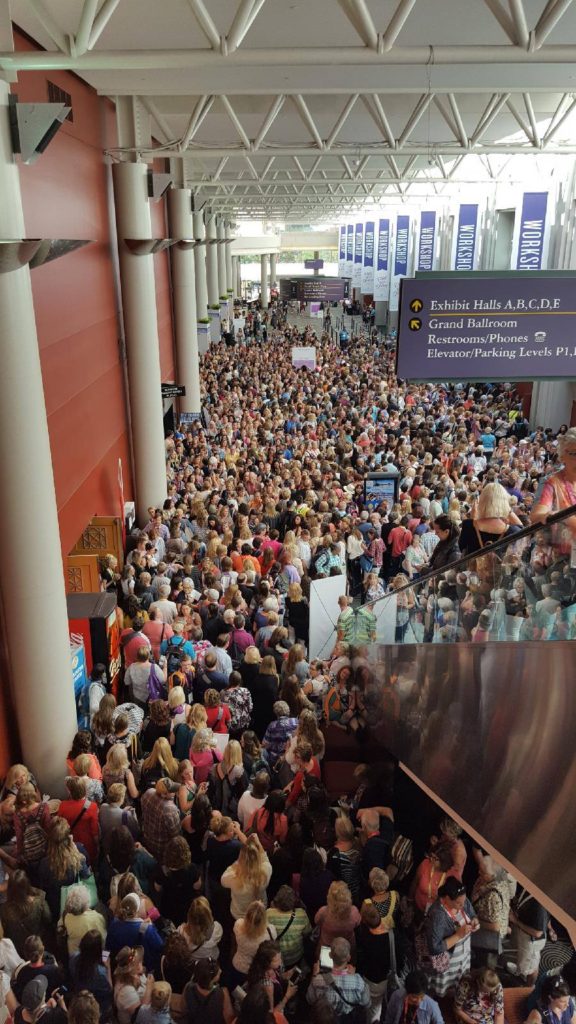 I missed my spouse and kids like CRAZY. But I wasn't one of the moms there on FaceTime with my kids three times a day.  I talked to them on the phone twice in the six days I was gone.  Because they need to know that I can be away and be busy and be having fun.  They need to know that their dad is perfectly capable of parenting them without me (unless perfectly capable means feeding them vegetables or clipping their fingernails).  My next trip is with my spouse and two months after that, all four of us, plus some extended family.  Those trips will be awesome, too.  But traveling alone is its own unique and beautiful experience that everyone should enjoy.  Tell me about your favorite traveling alone story in the comments.  Peace.