In my twenties, I established a bit of a role reversal with my mom.  I started to travel.  And because she didn't travel, I always bought her souvenirs wherever I went.  We assume the parents will bring the kids trinkets and clothing and whathaveyou from around the world, but I was the one always finding the perfect thing for her.  I always wanted it to be useful, yet specific to the location.  Sometimes it was consumable, sometimes it was just clothing (no "My daughter went to Jamaica and all I got was this tee shirt," but often close).
As we clean her house, I am finding the things I've brought her over the years. The practical or everyday and consumable things are noticeably worn (or gone, as the case may be).  Like the fleece jacket I bought in San Francisco on my honeymoon.  It's clear that she wore it, as it's been washed many times, pilled in the obvious places.  The t-shirt from the Rocky Mountains, stained.  No sign of jams and sauces and chocolates from this place or that.  But then there were things a little bit nicer. The wool blanket from England, the silk scarf from The Met in New York.  They were still in their original packaging when I found them. The blanket was bought in 2001, the scarf in 2008.  They are mine now, and I will use them, but still, I am sad.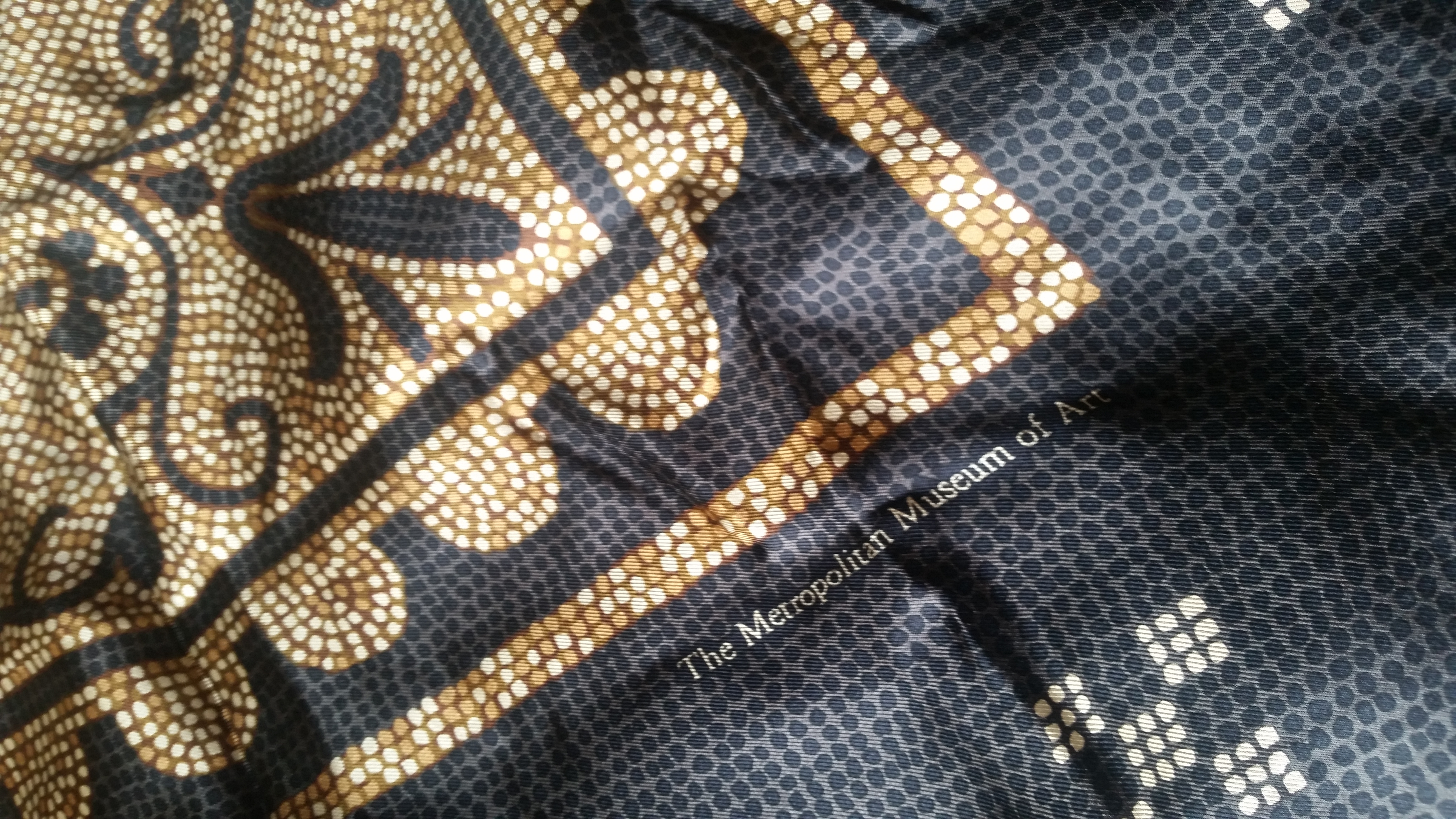 Let's be honest, I'm sad all the time at every moment of cleaning my mom's house.  Even when my sister and I are laughing over some crazy find, we are still sad.  This is just sad business.  But I can't ask her, "Mom, why didn't you use this? Wear this? I picked it out just for you." And it leads down the road of all the other questions I want to ask her.  In this instance, "Why didn't you travel?"
She loved to hear our stories and enjoyed our pictures (or pretended to, as any good mom would).  The few trips we did take together were functional (to Las Vegas for my sister's wedding, to Arkansas to visit my sister), but she always had a wonderful time. She almost took on a new persona during our trip for my sister's wedding. My cousins will still talk about how fun "Vegas Karen" was. When we were kids, we took a few trips, most notably to Florida for her 40th birthday.  She talked about that trip twenty years after the fact.  I can say with confidence, she liked to travel.
The obvious answer is she didn't have the money, which is true.  But when she needed to, she was always able to save the money she required to fix her car or the furnace.  She still managed to give my kids too many presents at Christmas.  It seems she just didn't prioritize fun.  Or rather, her own fun. She didn't have a passport.  In her 68 years, she never left this country.  I remember asking her once if she could go anywhere in the world, where would she choose.  She said Hawaii.  So, I planned to take her there.
First, I thought it could be for her 60th.  But my sister had moved to Arkansas and was starting a business and we couldn't possibly go without her.  So, maybe her 65th.  I went and got pregnant again and moved into a new house and no, that wasn't the right time either.  When she was diagnosed with cancer, my first thoughts went to Hawaii.  Forget everything, we will take this trip.  Put it all on a credit card if we have to, and worry about it later (I don't advocate for this in general, but desperate times). But shit.  She couldn't travel from her house to my house an hour and a half away.  It was too late.  Too fucking late.
And I can't get that back.  I can't ask her why if she REALLY wanted to go to Hawaii, why didn't she make it happen? So, I try to speculate.  And that leads nowhere.  Maybe the scarf I bought her in New York is ugly.  Maybe she hates wool, finds it itchy.  I won't ever know.  And this is not a moment for me to wisely impart to you, "Take the trip.  Ask the questions.  Seize the day."  Blah fucking blah.  Especially because that doesn't help ME understand my mom.  This is unfortunately a moment that I have to say, "Well, shit.  I guess I'll never know."  And be OKAY with that.  Grief is in large part finding ways to be OKAY.  The world has shifted beneath our feet, and we must find a new place to rest our soles.  I plan on taking mine to Hawaii just as quickly as I can.